BJ Content Tab – Cool Joomla Menu Module
BJ Content Tab is a useful Joomla menu module with tab-style layout which shows news/articles in a summarized and convenient way. Built in 'Bounce-Out' transition effect, moving between tabs in this extension creat the feeling of systematic and higly usable content arrangement when browsing your Joomla menu. Let's make the world are easily informed about news on your 'lively' website! This is another free
Joomla extension
from ByJoomla. This Joomla content menu is also intergrated with both
BJ preminum themes and their free versions
in order to save time for our customers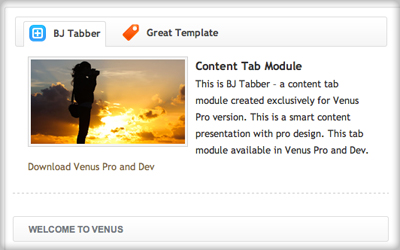 Feature of Content Tab Extension
Let's have a look at BJ Content Tab's functions.
'Bounce-out' transition effect: Your site will become lively with this tiny module. Building in 'Bounce-Out' transition effect, moving between tabs in this extension brings visitors an attractive look and interesting experience.
Small extension, large information coverage: As dividing different categories in tabs, there will be clear content display in your website. In addition, spaces can be saved as many different contents are displayed at the same time.