B Metis and Joomla B Extensions have been upgraded to Joomla 3.x in this May 2015. Remember to subscribe to our blog or our social account to check the
change log, releases and promotions
!
By releasing this dynamic template, ByJoomla provides a more customizable template that comes with many cool features.
Many extensions offered by ByJoomla (including BJ Image Slider, BJ Photo Gallery and Facebook extensions) are combined together in this new Joomla template to make it match with users' multiple purposes: online-channel for business, organization's website or a personal blog. Let's check out B. Jupiter in details through our demo site, or download packages.
(Please note that B. Jupiter PRO and DEV license come with BJ Image Slider FREE version only) - But don't worry, you can save more with our bundle purchase!
Professional design with 6 colors (PRO and DEV verson only)
Whether you are building a website for your company, non-profit organization, clubs, games ... we have variable styles for your needs.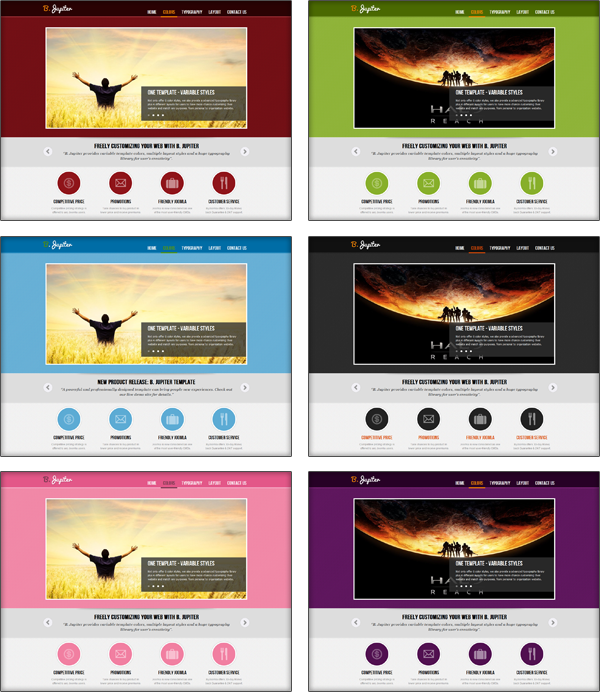 Save 25% with ByJoomla Jupiter Bundle
- Jupiter Gold Bundle includes: PRO Jupiter Template (original price: $0.9) - PRO Image Slider 2 (original price: $4.9) - Total original price: $5.8. You only pay $5. Click to view
Jupiter Gold Bundle
.
- Jupiter Platinum Bundle includes: DEV Jupiter Template (original price: $4.9) - DEV Image Slider 2 (original price: $9.9) - Total original price: $14.8. You only pay $10.9. Click to view 
Jupiter Platinum Bundle
.
Many professional features are included in Jupiter
We included in Jupiter the cool features to your site user friendly make your customers conveniently browsing the web.
Table-less & CSS-based
Adjustable layout
xHTML & CSS validation
Cross browser compatible - Support Chrome, IE7+, Firefox 2+, Safari, Opera
SEO friendly with SEO parameters
Flash-Free (easily browsered on mobile devices)
Compatible with Joomla 1.5, 1.6, 1.7 and 2.5
Fast Directly Technical Support(available for PRO and DEV customers). read more
Many build-in Modules for smarter and more effective content presenting:
BJ Image Slider II (Free version)

Java Script Image slide show with beautiful effects. (Free version)

BJ Headline Roller

Display hot/new article titles in outstanding place for more viewer impression.

BJ Dropdown Menu

Display multi-level menu items in a dropdown style.

BJ Social Plugin

Integrates with social networking sites (Facebook & Twitter) in articles.

BJ Photo Gallery

Displays images in a grid-style layout. Zoomed in popup when clicked.

BJ Facebook Extension

Include Facebook activities feeds & Facebook recommendations.
Jupiter is a flexible Joomla template and easily customizable
Simple CSS-based customization
Large Typography Gallery (bullet list, dialog, icons, buttons, modules…).
6 colors
With up to 23 positions: Enough positions for all your needs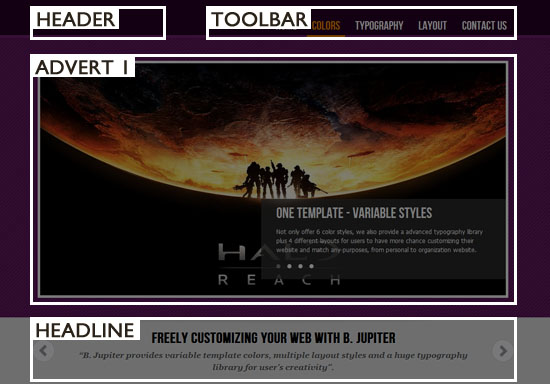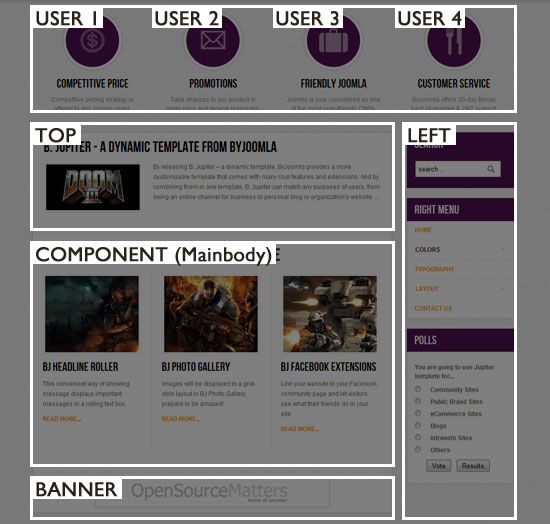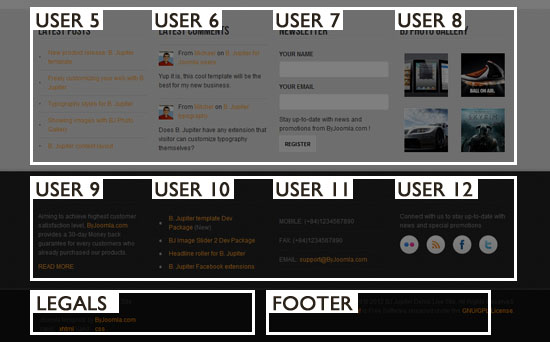 Documentations of Jupiter include
Getting started document - Which guides you from download and install Jupiter template to configure the Jupiter template.

The document can be download at JUPITER getting started document
 
 
 

Totally FREE
Bug-fix support

 

Only $0.9
for
a single domain support
Suitable for website owner/administrator

Only $4.9
for
Unlimited domain support
Suitable for Web development agencies

Blue Color

6 Colors

6 Colors

Dropdown Menu
Headline Roller
Social Plugin
Image Slider 2 (ver. Free)

Dropdown Menu
Headline Roller
Photo Gallery
Social Plugin
Facebook Social
Image Slider 2 (Free version)

Dropdown Menu
Headline Roller
Photo Gallery
Social Plugin
Facebook Social
Image Slider 2 (Free version)

Basic typography

Advance typography

Advance typography

No PSD source file

PSD source file available

PSD source file available

GNU/GPL v3.0

Commercial license

Commercial license

Bug-fix support on Forum

Dedicated
technical support (12 months)
Email and Helpdesk
(within 24 hrs)
Forum support

Dedicated
technical support (12 months)
Email and Helpdesk
(within 24 hrs)
Forum support

Manual update

12-month
upgrade

Lifetime upgrade

Totally Free

Only $0.9

Only $4.9